Calendly, an online scheduling tool that has simplified the appointment-making process for businesses, is the main focus of this guide. We will delve into various aspects of this platform, including its pricing, features, advantages, disadvantages, and a comparison with its competitors. We will also respond to the queries people generally have while searching for information related to Calendly pros and cons.
Table of Contents
Introduction
Calendly is a leading scheduling software that allows professionals and businesses to manage appointments and meetings efficiently. Here, we will dissect various facets of this software, helping you to comprehend whether it's the right tool for your needs.
Calendly Features
Overview
Calendly offers a variety of features designed to cater to individual professionals, small businesses, and large enterprises.
| Feature | Description |
| --- | --- |
| Easy Integration | Integrates with popular calendar systems like Google Calendar |
| Time Zone Intelligence | Automatically detects and converts time zones |
| Multiple Meeting Types | Supports one-on-one, round-robin, collective, and group meetings |
| Customization | Offers customization of branding, emails, and reminders |
| Analytics and Reporting | Provides robust analytics and reporting for tracking performance |
| Mobile Accessibility | Accessible on mobile devices through iOS and Android apps |
Pricing
Calendly comes with various pricing plans:
Basic: Always free plan with limited features with basic functionality
Essentials: $8 per user/month (billed annually)
Professional: $12 per user/month (billed annually)
Teams: $16 per user/month (billed annually)
Calendly Pros and Cons
Pros
User-Friendly Interface: Easy to navigate
Integration with Other Tools: Seamlessly integrates with platforms like Zoom, Microsoft Teams, and more
Time Zone Flexibility: Reduces confusion by automatically adjusting time zones
Customization Options: Offers extensive personalization of interface and notifications
Cons
Limited Features in Free Plan: Some essential features are locked behind paywalls
Potential Privacy Concerns: Questions raised about the handling of personal data
Can Be Costly for Larger Teams: May become expensive for larger organizations
Calendly Supports Just 7 Languages: On the other side, Callendo offers much more – 24 different languages
What Makes Calendly Unique
Calendly's uniqueness is showcased in various ways that are essential to modern professionals and businesses. Here's a more detailed examination:
Intuitive User Interface
Unlike other scheduling tools, Calendly boasts an intuitive and clean user interface. It guides users through the process of scheduling without unnecessary complexity. Even those who are not tech-savvy can navigate the platform with ease, making it accessible to a wide audience.
Extensive Integration Capabilities
Calendly goes beyond mere calendar integration. It connects with various other tools and platforms that businesses commonly use, such as CRM systems, email marketing tools, and video conferencing solutions like Zoom. This seamless integration streamlines workflows and creates a more cohesive scheduling experience.
Time Zone Intelligence
One of the standout features of Calendly is its time zone intelligence. For professionals working across different time zones, coordinating meetings can be a hassle. Calendly automatically detects and converts time zones, ensuring that everyone is on the same page, thus minimizing confusion and scheduling errors.
Diverse Meeting Options
Calendly's versatility in handling different meeting types sets it apart from the competition. Whether it's one-on-one client meetings, team round-robin scheduling, group sessions, or collective meetings, Calendly has the functionality to support various scheduling scenarios. This adaptability makes it suitable for diverse organizational needs.
Customization and Branding
Calendly's customization options are broad and flexible. You can tailor the appearance of your scheduling page to align with your brand's colors, logo, and messaging. Even automated emails and reminders can be customized, providing a consistent brand experience to your clients or prospects.
Advanced Analytics and Reporting
Unlike basic scheduling tools, Calendly offers advanced analytics and reporting. This functionality allows businesses to track and analyze scheduling trends, user behavior, and other valuable metrics. These insights can guide decision-making processes and help in refining strategies.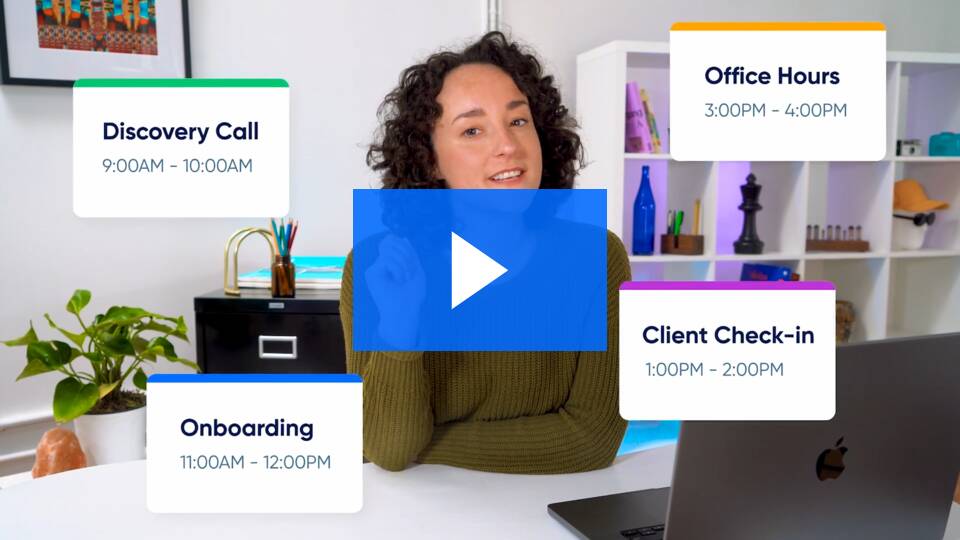 Comparisons with Competitors
Calendly vs Callendo: Callendo is a new tool that represents the #1 Calendly alternative.
Calendly vs Acuity: While Acuity offers more extensive customization, Calendly is often praised for its ease of use.
Calendly vs Doodle: Doodle might be more suitable for polling, but Calendly excels in business schedules.
Calendly Pros and Cons: Conclusion
Calendly serves as an effective scheduling solution that can suit a wide array of needs. Its unique features, competitive pricing, and substantial integrations make it a strong choice for professionals and businesses. However, considering the limited free plan and potential privacy concerns, exploring alternative options might be worthwhile for some users.
What People Are Generally Searching For
People researching Calendly often look for:
Calendly alternatives
Integration with other tools
How to use Calendly effectively
Is Calendly secure?
Calendly free vs paid comparison
This guide aims to cover these questions and provide an in-depth understanding of the platform.
Frequently Asked Questions (FAQ) about Calendly Pros and Cons
1. What are some Calendly alternatives?
There are several alternatives to Calendly that offer similar scheduling functionality. Some popular ones include:
2. How does Calendly integrate with other tools?
Calendly integrates seamlessly with a variety of tools, including:
Calendar Systems: Such as Google Calendar, Outlook, and Apple iCal
Video Conferencing Platforms: Including Zoom and Microsoft Teams
Marketing and CRM Systems: Like Salesforce and HubSpot
These integrations enable smoother workflow and centralized management.
3. How to use Calendly effectively?
To use Calendly effectively:
Set Up Integrations: Link Calendly with your preferred calendar and other essential tools
Customize Your Scheduling Page: Brand it to align with your business identity
Use Different Meeting Types: Utilize various meeting options like round-robin and group scheduling to fit different scenarios
Analyze Metrics: Utilize analytics to understand trends and improve the scheduling process
4. Is Calendly secure?
Calendly takes security seriously and complies with industry standards like GDPR and CCPA. They utilize encryption to secure data and provide various privacy controls to manage information. However, it's essential to review their privacy policy and configure your privacy settings according to your preferences.