In the digital world, staying organized is a crucial aspect of your day-to-day activities. Whether you're freelancing or running a large corporation, scheduling meetings efficiently can be quite challenging. There are numerous online appointment scheduling tools available that help simplify this process, among which Calendly and Cogsworth have gained significant popularity. So, Calendly vs Cogsworth?
These platforms offer plenty of shared characteristics but also feature unique aspects setting them apart from each other. In this comprehensive guide, we will compare the functions, benefits, and limitations of Calendly and Cogsworth to derive an informed perspective on these two highly-rated solutions.
Introducing The Contenders
1. Calendly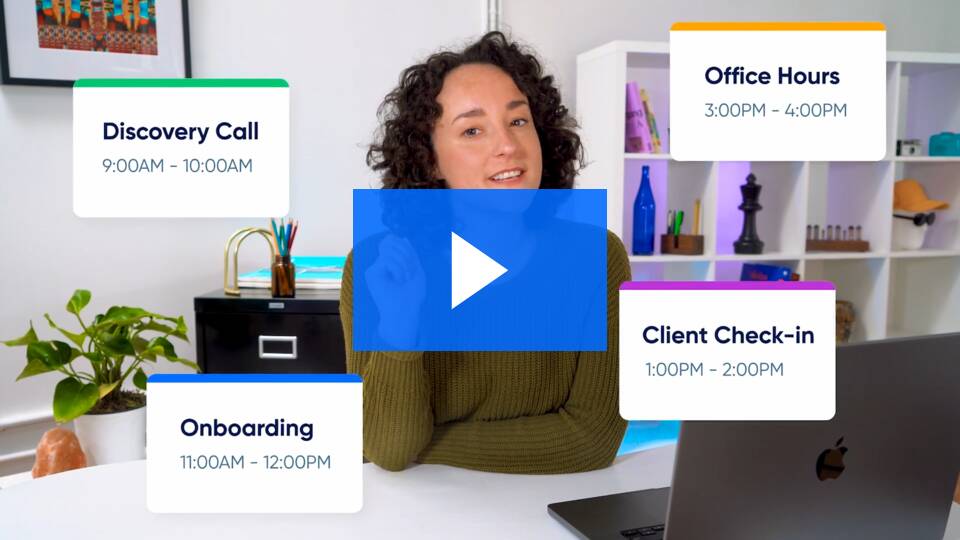 Dubbed the new-age scheduling powerhouse, Calendly streamlines the organization and management of appointments with its robust automated processes easing the workflow for individuals, teams, and businesses alike. Removes the emailing back-and-forths by integrating it with various popular calendars like Google Calendar, Office 365 and more facilitating smooth inter-operability—more reasons why learning about syncing Calendly with Google Calendar gains relevance today.
To understand how to use Calendly effectively, here's a helpful guide explaining the nuances of using Calendly's functionalities.
2. Cogsworth
A contender in the appointment scheduling domain, Cogsworth deploys innovative features meeting the varying demands of modern enterprises. It offers custom forms, SMS reminders, and integrations with payment gateways, making interactions seamless and efficient.
Calendly vs Cogsworth: Core Features Comparison
While both platforms reign supreme in their ways, when choosing between Calendly vs Cogsworth, a comparison based on core features might provide clarity:
Scheduling Appointments:
Calendly: Creates event types (one-on-one or group) and sets availability preferences once integrated with the personal calendar. Then, shares the link with invitees who pick a time best suited for them.
Cogsworth: Offers multi-staff, services, durations, locations, off-site, grouped appointments scheduling besides one-on-one.
Integrations:
Calendly: Seamless integration with Google, Office 365, Outlook.com & iCloud calendars ensuring real-time synchronization. Besides, it integrates with various apps such as Zoom, Salesforce, Stripe, and PayPal through Zapier.
Cogsworth: Connects well with Office 365 (Outlook), Google & Apple calendars. Plus, embeds into WordPress websites seamlessly.
For information on striking comparisons of Calendly with alternatives, dive into our detailed reviews comparing Calendly Vs. Doodle or Calendly Vs. Acuity
Customization & User Accessibility:
Calendly: Provides customization options at every step, user-friendly interface, and promises high accessibility.
Explore a comprehensive guide on everything there is need to know about accessing Calendly.
Cogsworth: Allows profound personalization reflecting brand—custom form creation for additional input precedes appointments confirming only when matched with service providers.
Price Assessment
When assessing the price point of both platforms, follow our definitive guides set out separately for Calendly and Cogsworth
Comparison Table: Calendly vs Cogsworth (2023)
| Feature | Calendly | Cogsworth |
| --- | --- | --- |
| Scheduling automation | Yes | Yes |
| Multiple event types | Yes | Yes |
| Integration with calendars (Google, Outlook, etc.) | Yes | Yes |
| Customizable booking forms | Yes | Yes |
| Group events | Yes | Yes |
| Buffer time between appointments | Yes | Yes |
| Time zone intelligent | Yes | Yes |
| Free plan available | Yes | No |
| Multiple team member's management | Yes (Premium Feature) | Yes (Premium Feature) |
| SMS reminders | No | Yes (Premium Feature) |
| Custom domain | No | Yes (Premium Feature) |
| Client management/CRM | No | Yes (Premium Feature) |
| Analytics and Reporting | No | Yes (Premium Feature) |
| Customer support | Email, FAQs, Tutorials | Email, FAQs, Tutorials, Chat |
| Pricing (lowest paid plan) | $8 per user/month | $29 per month |
Concluding Remarks
Comparing Calendly and Cogsworth reveals that while both excel with their distinct attributes, individual user requirements play a vital role in determining suitability. Therefore, understanding your specific needs and exploring all options extensively, along with alternative offerings (Appointlet, Oncehub, etc.), could facilitate the selection of an ideal solution.
Look deeper into platform comparisons by browsing the entries on our blogs contrasting Calendly vs YouCanBook.me or investigating alternative scheduling solutions.