Whether you're a freelancer, a business owner, or someone who juggles multiple calendars, finding the best scheduling app can be a game changer. Having a reliable and easy-to-use tool that seamlessly harmonizes all your efforts saves you time and hassle; allowing more mental energy to focus on your core tasks.
In our search for the perfect freelance scheduling app, we'll delve deep into popular options with impressive features, each linking to comprehensive reviews in order to help you find the right fit.
Key Factors to Consider Why Use a (Freelance) Scheduling App?
Scheduling apps act as digital personal assistants for freelancers. They keep you on top of your appointments, tasks, and deadlines, helping you to stay organized and productive.
Key benefits of using scheduling apps include:
Time-saving: Automated scheduling and reminders save you the hassle of manual planning.
Efficient: Facilitate seamless booking of meetings or appointments without back-and-forth emails.
Professionalism: Set boundaries and present a professional image to your clients.
Centralization: Keep your tasks, deadlines, and appointments in one place.
Flexibility: Most apps can sync with multiple devices, so you can manage your schedule on the go.
There are several key factors to consider when choosing an online calendar system. Some critical aspects include:
Ease of use (Including navigation and ease of login process)
Integration capabilities (like syncing with Google Calendar)
Customizable features
Pricing
Client-facing functionalities
Taking the time to evaluate these layers will ultimately lead to a better user experience – both on your end and for those booking time with you.
What Makes a Good Scheduling App?
A good scheduling app should be user-friendly, customizable, and efficient. It should provide features like:
Seamless integration with other apps and tools
Mobile compatibility for managing your schedule on the go
Automated reminders to keep you on track
Flexible and easy booking options for your clients
Reliable customer support
Comparing Popular Freelance Scheduling Apps
The range of appointment scheduling software available is wide — it's not only about comparing market leaders Calendly vs Acuity but also considering platforms such as SimplyBook.me, Cogsworth, and Vyte, amongst others. These tools offer various unique functionality advantages over standard service providers.
| App | Best Features |
| --- | --- |
| Callendo | Flexible scheduling features, AI-driven scheduling, and client engagement too |
| Calendly | Flexible scheduling options, extensive integration |
| Doodle | Group scheduling, anonymous polling |
| Acuity Scheduling | Client self-booking, payment processing |
| SimplyBook.me | 24/7 online booking, customizable booking website |
1. CALLENDO
In a world where efficiency and productivity are key, leveraging the power of technology to help manage your freelance business is essential. Callendo steps up to this challenge, providing an intuitive, AI-driven scheduling system that goes above and beyond basic scheduling needs.
Callendo offers an array of features that can revolutionize the way freelancers manage their work schedules. From predicting the best times for appointments to enhancing customer interaction, let's delve deeper into the unique facets of Callendo.
AI-Powered Scheduling
Callendo uses artificial intelligence to provide smart scheduling solutions. Its algorithms learn from your past scheduling patterns and preferences to suggest optimal times for appointments and tasks. This unique feature sets Callendo apart from other scheduling tools by providing a customized and intelligent approach to organizing your time.
Streamlined Booking Process
The scheduling interface is intuitive and straightforward, allowing your clients to effortlessly book appointments with you. By predefining your availability and service duration, you can automate the booking process, saving both you and your clients precious time.
Enhanced Client Engagement
Callendo isn't just about managing appointments; it also focuses on client engagement. With features like automated reminders and follow-up emails, it helps you maintain a consistent communication line with your clients. This increased engagement can lead to higher client satisfaction and loyalty.
Comprehensive Dashboard
The platform's dashboard gives a comprehensive overview of your appointments, tasks, and client interactions. With this information readily available, you can easily monitor your progress and make data-driven decisions to improve productivity.
Pricing
Callendo offers a free trial period that allows you to test out its features and see how well it aligns with your business needs. Calledno has a great one-time offer that has proven to be great for freelancers. You pay once and that's it, you have the tool for life.
Unique Selling Point
The key feature that makes Callendo stand out among competitors is its AI-driven scheduling system. This feature utilizes the power of artificial intelligence to maximize your productivity by suggesting optimal times for tasks and appointments based on your unique work patterns and preferences.
2. Calendly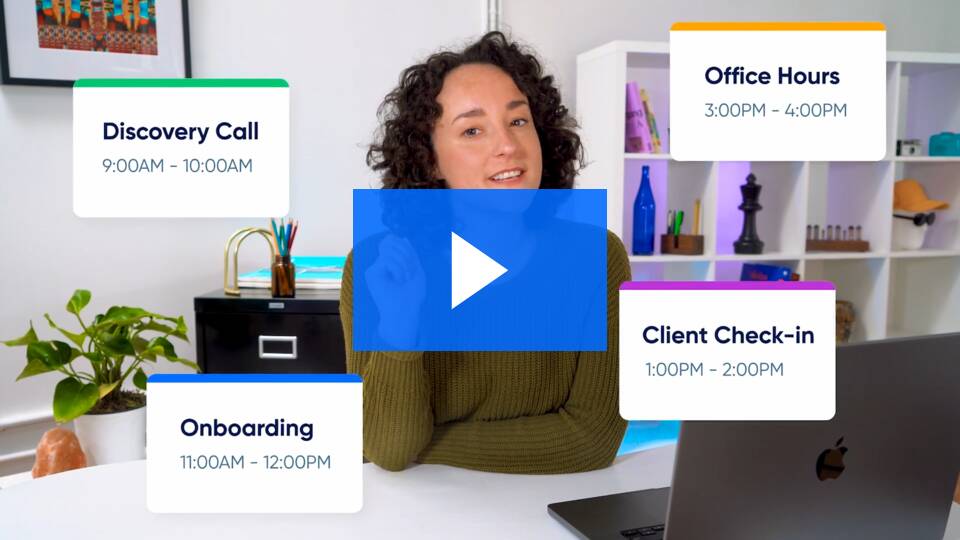 Calendly has grown significantly due to its straightforward design and user-friendly interface. With integration capacity for tools like Google Suite, Office 365, Outlook, Salesforce, Zoom, and GoToMeeting, among other apps, it stands out. Mastering the use of Calendly makes work easier especially for freelancers as highlighted in this post: Calendly For Freelancers In 2023.
Nonetheless, there are many contenders that give Calendly stiff competition. We've done comparisons covering areas including :
And many more comparisons to equip you when deciding on your scheduling app.
3. Doodle
Doodle shines when it comes to group scheduling. You can propose multiple meeting times, and participants can vote on their preferred options. This way, Doodle simplifies the coordination process for meetings, events, and appointments.
Pricing: Basic version is free, Premium starts at $6.95 per month.
Unique Selling Point: Group scheduling and anonymous polling.
Sources: Doodle Pricing, Doodle Features
4. Acuity Scheduling
Acuity Scheduling is not just a scheduling tool but a full-fledged appointment management system. It lets your clients see your real-time availability, book their own appointments, and even pay online.
5. SimplyBook.me
SimplyBook.me offers a comprehensive solution for service businesses, providing features like 24/7 online booking, customizable booking websites, and even marketing tools to promote your business.
When looking for the best freelance scheduling app, it's essential to consider your individual needs and preferences. Each of these apps has a unique set of features, benefits, and pricing structures. By understanding what each offers, you can make an informed decision about the best tool to boost your productivity and professionalism in your freelance career.
Conclusion
Effective scheduling is the cornerstone of a successful freelance business. It's what stands between a smooth, productive day and a chaotic one. Fortunately, in today's technology-driven era, an array of tools is available to help you manage your time effectively and professionally.
From AI-driven scheduling with Callendo to group scheduling features in Doodle, from comprehensive appointment management in Acuity Scheduling to the customizable booking website provided by SimplyBook.me, and the flexible scheduling options of Calendly, there's an option to suit every freelancer's unique needs and preferences.
The ideal scheduling tool for you is one that aligns well with your business model, work style, and budget. It's worthwhile to explore each option, take advantage of free trials, and carefully consider the unique features, benefits, and pricing structures. A well-chosen scheduling app can help you streamline your work process, enhance client satisfaction, and ultimately, bolster your success in the freelancing world.
In an age where freelancing is no longer a trend but a valid career choice for many professionals across various fields, finding the right tools to support your journey is essential. Here's to finding the best freelance scheduling app that will take your productivity and business management skills to the next level!
---