Welcome to our detailed exploration of Calendly for freelancers, the powerful scheduling tool that's changing the game for freelancers everywhere. If you're a freelancer, you're going to want to keep reading because this tool may just revolutionize the way you handle your scheduling.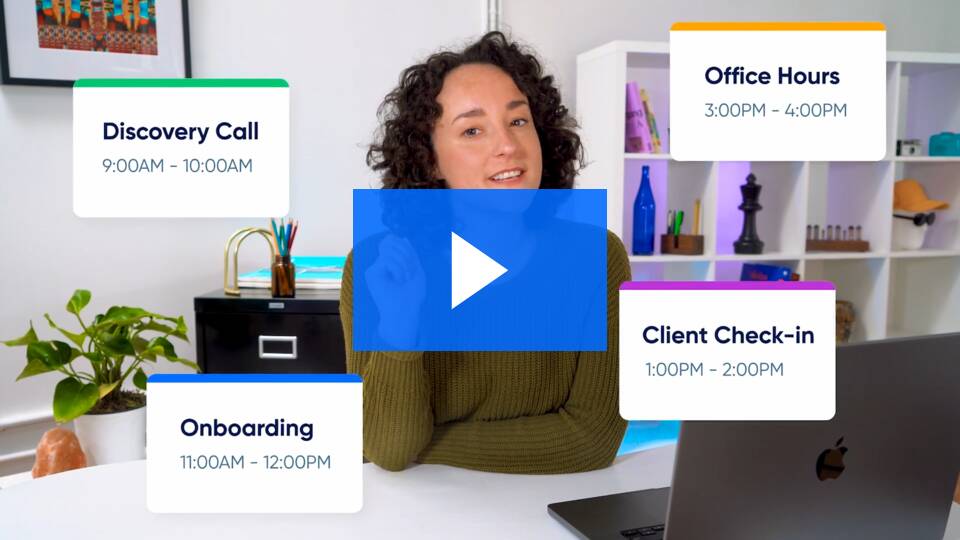 About Calendly for Freelancers
For freelancers, scheduling meetings, appointments, and calls is an integral part of daily operations. Having a tool that simplifies this process and removes the back-and-forth is invaluable. Enter Calendly, a powerful scheduling tool that seamlessly integrates with your calendar, allowing you to effortlessly plan your meetings. Here we will delve into its pricing, features, comparisons with competitors, and why it's unique in the market.
Key Features
Now let's explore some key features of Calendly that make it an ideal choice for freelancers:
Simple Scheduling: Calendly syncs with your calendars to check your availability and allows clients to book time slots based on this information—no need for back-and-forth emails or calls.
Time Zone Intelligent: It automatically detects and adjusts for different time zones, ensuring there's no confusion about meeting times.
Integration Capabilities: Calendly integrates with various platforms, including Zoom, Google Meet, Outlook, Salesforce, PayPal, and more.
Customization: You can tailor your Calendly link and meeting types to reflect your brand.
Group Events: You can organize events that multiple people can sign up for at the same time.
Automated Notifications: Calendly sends automated reminders and follow-ups to ensure everyone's on the same page.
What Makes Calendly Unique
So, what makes Calendly unique compared to its competitors? Here are a few key points:
User-Friendly Interface: Calendly's interface is simple and intuitive. You'll find it easy to use even if you're not tech-savvy.
Integration Capabilities: Its wide array of integrations with apps such as Google Meet, Zoom, Salesforce, and PayPal sets it apart from many competitors.
Pricing Structure: The availability of a free plan and the affordability of the premium plans make Calendly an economical choice for freelancers.
Time Zone Intelligence: The automated time zone adjustment is a lifesaver for freelancers working with international clients.
Why Freelancers are Searching for Calendly
Freelancers often search for tools like Calendly to save time, improve client interaction, and reduce scheduling errors. It provides a seamless, professional experience for both the freelancer and the client. Moreover, freelancers are often looking for cost-effective solutions, and Calendly, with its free plan and affordable premium options, is a popular choice.
Boosting Productivity: Scheduling Tips for Freelancers Using Calendly
As a freelancer, time is undoubtedly one of your most precious resources. Every minute counts and the effective management of your schedule can drastically influence your productivity, work quality, and ultimately, your success. One of the tools that can help optimize your scheduling process is Calendly. So, how can you use it to boost your productivity? Let's explore some crucial tips!
Tip 1: Utilize Time Blocking
Time blocking is a time management method that involves dividing your day into blocks of time, each dedicated to a specific task or activity. Calendly simplifies time blocking by allowing you to set availability preferences. This way, clients can only book you within designated time slots, ensuring your day remains structured and organized.
Tip 2: Automate Scheduling
Eliminate the need for back-and-forth emails by automating the scheduling process with Calendly. With its simple and intuitive interface, clients can easily see your availability and book appointments. Calendly sends automated reminders, reducing the chances of no-shows and last-minute cancellations.
Tip 3: Use Buffer Times
Avoid back-to-back meetings that can leave you feeling rushed and stressed. With Calendly, you can set buffer times before and after appointments, giving you some breathing space and time to prepare for the next meeting.
Tip 4: Integrate with Other Apps
Leverage Calendly's integration capabilities to sync with your preferred video conferencing tools (like Zoom or Google Meet), CRM software (like Salesforce), and even payment gateways (like PayPal). This can greatly reduce the manual effort of switching between multiple apps, enhancing your productivity.
Tip 5: Set Up Group Events
If you frequently host webinars, group coaching sessions, or team meetings, Calendly's group event feature can be a game-changer. It allows multiple people to register for the same time slot, simplifying the process and saving you time.
Tip 6: Use the Mobile App
The Calendly mobile app ensures you can manage your schedule even on the go. It provides a quick overview of your day and allows you to make adjustments as needed.
Tip 7: Respect Your Personal Time
Remember, one of the perks of being a freelancer is the flexibility it offers. Use Calendly to schedule personal activities and downtime. By respecting your personal time and ensuring you're not always "on the clock", you can avoid burnout and maintain a healthy work-life balance.
Efficient scheduling is key to improving productivity as a freelancer. By leveraging a tool like Calendly and implementing these tips, you can take control of your time, reduce stress, and focus more on doing the work you love. Remember, successful freelancing is not just about working hard but also about working smart!
Pricing
One of the most frequently asked questions about Calendly is its pricing structure. Understanding the cost is crucial for freelancers to manage their budgets and investment. Here's a breakdown of the various plans and their costs as of July 2023:
Conclusion
In this fast-paced digital world, managing your schedule efficiently is paramount to your success as a freelancer. Calendly offers a myriad of features to streamline your scheduling process, allowing you to focus on your core work rather than logistics.
Regardless of the nature of your freelance work, whether you're a graphic designer, writer, or digital marketer, Calendly can help simplify your operations and create a more professional image for your clients. From its vast integration capabilities to its user-friendly interface, it stands out as a powerful tool in the freelancer's toolkit.
In conclusion, Calendly is a robust, intuitive, cost-effective scheduling solution that every freelancer should consider. By utilizing it, you can enhance your professionalism, save precious time, and streamline your processes.
BONUS: Check out the 18 best Calendly alternatives in 2023
FAQ About Calendly for Freelancers
Can I integrate Calendly with my existing calendar?
Calendly supports integration with Google Calendar, Office 365, Outlook, and iCloud.
Does Calendly support group events?
Yes, group events are supported in the Premium and Pro plans.
Can clients reschedule or cancel appointments through Calendly?
Clients can reschedule or cancel their appointments. You can also set a cutoff time for cancellations or rescheduling.