In today's world, efficiency and time management are crucial for the success of any business. Appointment scheduling, a significant yet tedious task, can often be a source of hassle for both entrepreneurs and customers. This is where Appointlet comes in to revolutionize the appointment booking process. In this comprehensive guide, we delve into the features, pricing, and unique selling points of Appointlet, a tool designed to simplify appointment scheduling for businesses and their customers alike.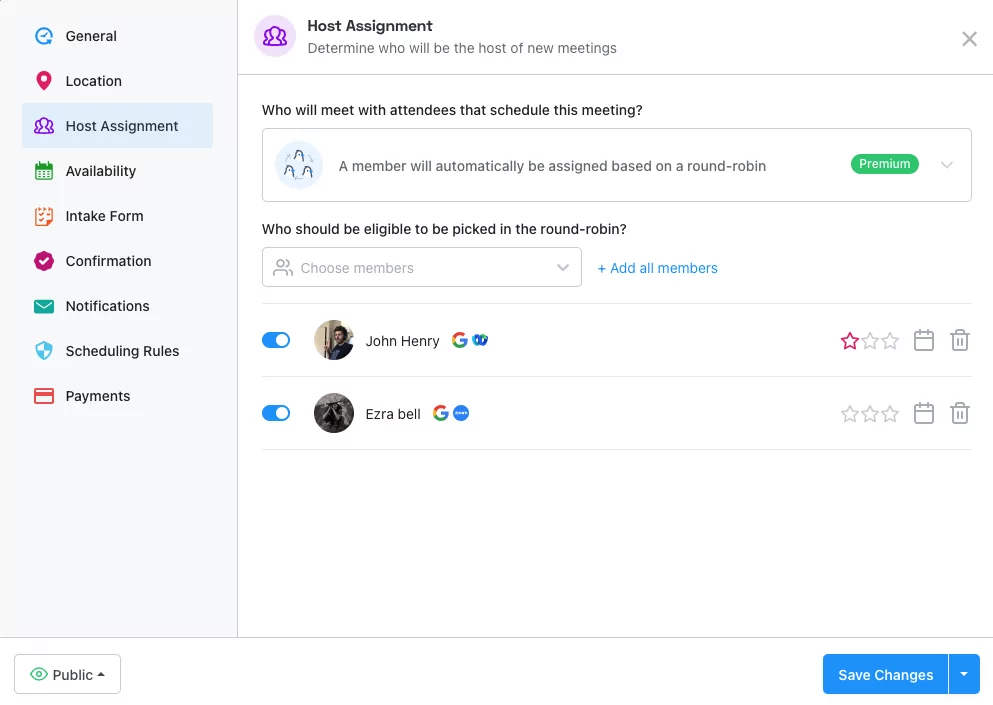 Understanding Appointlet
Appointlet is an online scheduling software that enables businesses to streamline their appointment booking process. If you're a coach, consultant, or service provider, Appointlet eliminates the frustration of countless back-and-forth emails and manually entering appointments, providing a seamless booking experience for your clients.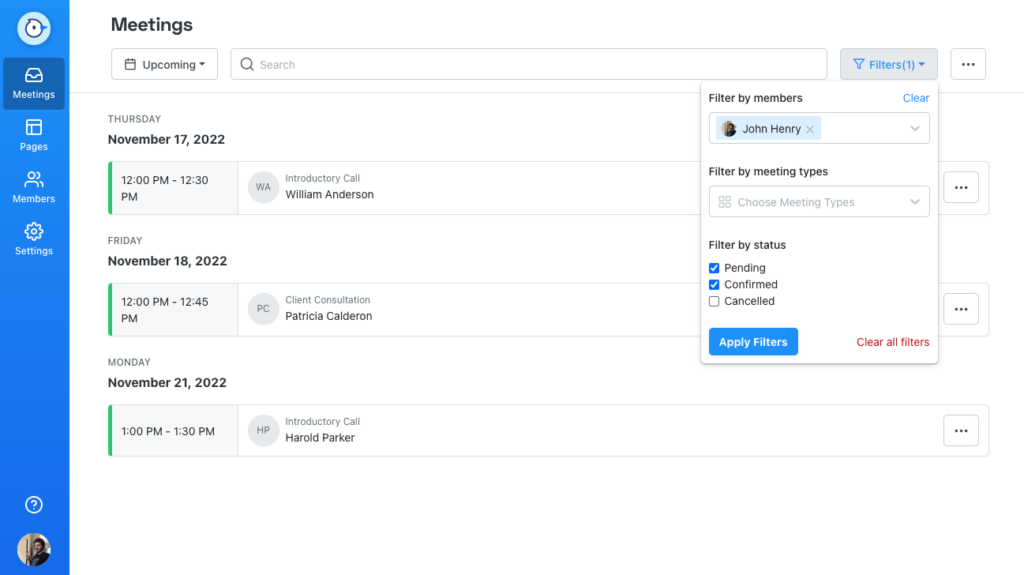 Key Features of Appointlet
Appointlet brings to the table an array of features that sets it apart from other online scheduling tools. Here are some of the defining features of Appointlet:
Streamlined Booking: Clients can book appointments via a straightforward, user-friendly interface that can be integrated into your website or shared through a unique link. This process does not require clients to create an account, saving time for everyone involved.
Calendar Integration: Appointlet syncs with Google and Office 365 calendars, ensuring that you'll never double book or miss an appointment.
Time Zone Adjustment: It automatically adjusts for different time zones, so you can seamlessly schedule meetings with international clients.
Customizable Booking Page: You can tailor the booking page to match your brand's look and feel.
Multiple Meeting Types: Whether it's a consultation, a follow-up call, or a group meeting, Appointlet lets you define various meeting types with different durations.
Availability Control: Set your availability for specific days, times, or by the type of meeting, giving you full control over your schedule.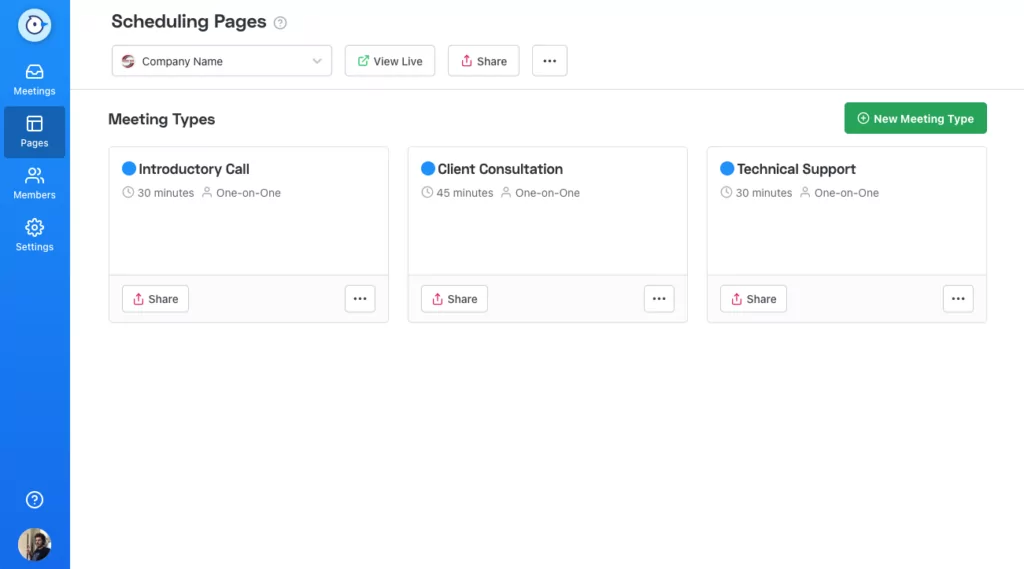 Pricing: Flexibility to Suit Your Needs
Appointlet offers a pricing model that caters to the needs of both small businesses and larger enterprises.
Free Plan: A basic plan offering one meeting type and a limited number of appointments per month. It's a great option to test out the software.
Premium Plan: Priced at $8 per member per month, this plan offers unlimited meeting types and appointments, along with priority support and integration with payment platforms like Stripe and PayPal.
Enterprise Plan. This is a custom plan, made for enterprise customers who need priority customer support, quarterly account reviews, and advanced security measures.
Remember, you can try the Premium Plan free for a 15-day trial period, with no credit card required.
If you decided to purchase a yearly subscription, you will get a 20% discount.
The entire pricing of Appointlet can be found on the pricing page.
Appointlet vs Competitors: What Makes it Stand Out?
When searching for an appointment scheduling tool, people generally look for easy integration, flexible scheduling, a user-friendly interface, and affordability. Appointlet shines in all these aspects and offers more. The simplicity of Appointlet sets it apart from competitors such as Calendly or Acuity Scheduling. Its interface is designed to be used by non-technical users, making it a more accessible tool for businesses of all sizes.
Moreover, Appointlet's unique selling point lies in its seamless integration with your business's website, providing a unified brand experience to your clients. It also supports one-on-one meetings as well as group bookings, a feature not often found in other scheduling tools.
Wrapping Up
In the digital age, tools like Appointlet are redefining how businesses operate. By automating and simplifying the appointment scheduling process, Appointlet allows you to focus on what truly matters: delivering value to your clients. From its robust set of features to its flexible pricing model, Appointlet is a tool worth considering if you're looking to streamline your scheduling process, enhance the client experience, and boost your overall business efficiency.
Frequently Asked Questions About Appointlet
Let's address some common queries that users often have when searching for or using Appointlet.
Yes, Appointlet prioritizes user security. All data transmitted to and from Appointlet is encrypted using 256-bit SSL encryption – the same level of security used by banks. Plus, it's fully compliant with GDPR, ensuring the privacy and protection of user data.
Can I Integrate Appointlet With Other Apps?
Absolutely. Appointlet integrates seamlessly with a variety of apps including Google Calendar, Office 365, and even your website. It also allows integration with Zoom for virtual meetings and Stripe or PayPal for payments.
Does Appointlet Support Mobile Devices?
Yes, Appointlet supports mobile devices. It's responsive and works well on both iOS and Android devices, allowing you or your clients to schedule appointments on the go.
Can I Customize My Appointlet Booking Page?
Indeed, you can. Appointlet allows you to customize your booking page to reflect your brand. You can add your logo, use your brand colors, and even tailor the booking form questions to suit your needs.
In Conclusion: Making Appointment Scheduling Effortless
When it comes to efficiency, automation is the way forward. With Appointlet, you can automate your appointment scheduling process, making it smoother and more efficient for both you and your clients. Its robust feature set, flexible pricing options, user-friendly interface, and seamless integrations make it a compelling choice for businesses of all sizes and industries.
Whether you are a coach, a consultant, a healthcare provider, or a business owner looking to simplify appointment bookings, Appointlet is definitely worth considering. So, why not save your time for what really matters and leave the scheduling to Appointlet? It's time to redefine the way you manage your appointments!
Appointlet has made it to the list of best Calendly alternatives in 2023! Well done and congratulations!