In today's digital era, managing appointments and meetings efficiently is vital. Enter Calendly, an application that takes away the hassle of scheduling. At the heart of its practicality is the Calendly widget, a tool you might not be familiar with. This blog post will provide a comprehensive overview of the Calendly widget: its features, pricing, and how it measures up against the competition.
What is the Calendly Widget?
The Calendly widget is a miniature version of the full Calendly application that can be embedded into your website or platform. It simplifies the scheduling process by allowing visitors to book meetings or appointments directly from your site. No more bouncing back and forth between emails or texts. With the Calendly widget, scheduling becomes a seamless experience for everyone involved.
Features of the Calendly Widget
The Calendly widget is feature-rich, offering numerous functionalities to streamline scheduling:
Embedded Scheduling: The Calendly widget allows you to embed a booking system directly into your website or app. You can customize it to align with your site's aesthetics and user experience.
Custom Availability: Control your schedule by setting your availability preferences. The widget respects your time and ensures you're not double-booked.
Multiple Meeting Types: Set up one-on-one, round-robin, collective, or group events based on your business needs.
Time Zone Intelligent: The widget automatically detects and adjusts for time zones, ensuring no confusion for international appointments.
Calendar Integration: It syncs with Google, Outlook, Office 365, or iCloud calendar to prevent any scheduling conflicts.
Automated Notifications: Send confirmation and reminder emails or texts to attendees, reducing no-shows.
What Sets Calendly Apart?
Calendly stands out due to its simplicity and user-friendliness. Here's what sets Calendly apart:
Ease of Use: The interface is intuitive, and the setup process is straightforward. It requires no technical knowledge, making it accessible to users of all proficiency levels.
Efficient Workflow: By eliminating the back-and-forth email exchange typically associated with scheduling, Calendly saves you time and reduces potential miscommunications.
Versatility: Calendly is not industry-specific. Whether you're a freelancer, a small business owner, or part of a large corporation, you can use it.
Integration Capabilities: It can integrate with numerous applications, making it a powerful addition to your existing workflow.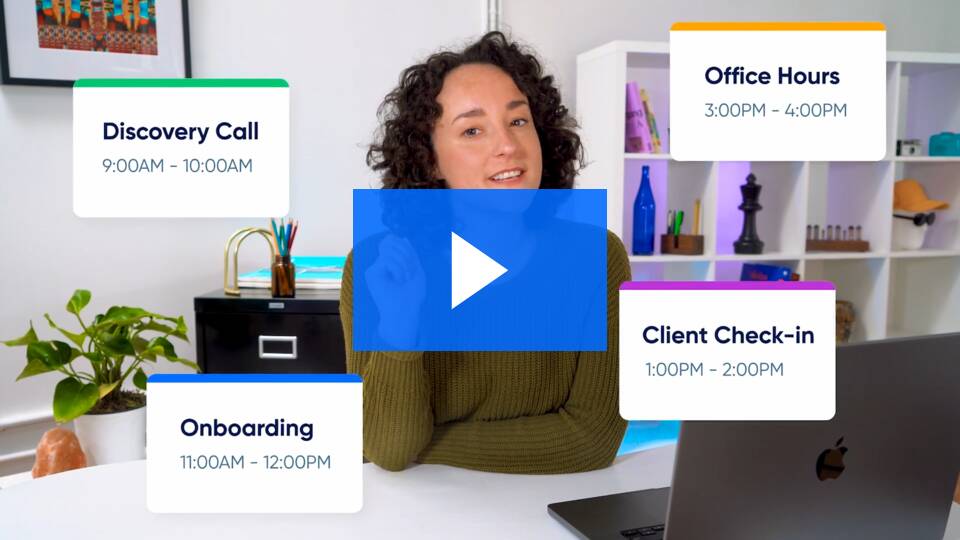 Comparing Calendly with Competitors
To give a clearer perspective, let's compare Calendly with three top competitors: Doodle, Acuity Scheduling, and Callendo.
| Feature | Calendly | Doodle | Acuity Scheduling | Callendo |
| --- | --- | --- | --- | --- |
| Embeddable Widget | Yes | No | Yes | Yes |
| Free Plan Available | Yes | Yes | No | No |
| Unlimited Event Types | Premium Plan | No | Yes | Yes |
| Time Zone Detection | Yes | Yes | Yes | Yes |
| SMS Notifications | Pro Plan | No | Yes | Yes |
| Payment Integration | Pro Plan | No | Yes | Yes |
| Salesforce Integration | Pro Plan | No | Yes | Yes |
This table is just a snapshot of how Calendly compares with its competitors. Keep in mind, the best choice depends on your specific needs and requirements.
FAQs About the Calendly Widget
When it comes to the Calendly widget, people often search for answers to the following:
1. How do I embed the Calendly widget into my website?
After creating an event in Calendly, go to the 'Share' button and choose 'Embed'. Choose from the Inline, Popup Text, or Popup Widget options. Then, simply copy the code and paste it into your website's HTML.
2. Can I customize the look of my Calendly widget?
Yes, Calendly provides customization options. You can change the color of the booking button and other elements to match your brand.
3. Is there a limit to the number of appointments I can schedule with Calendly?
No, there are no limits to the number of appointments you can schedule with Calendly, regardless of the plan you're on.
Wrapping Up
The Calendly widget is a powerful tool that simplifies scheduling and saves you time. With a host of features and a flexible pricing model, it's a worthwhile investment for any business or individual seeking to streamline their appointment booking process. While it faces stiff competition, its ease of use, versatility, and integration capabilities set it apart.
If you're unsure whether Calendly is right for you, consider taking advantage of the free plan to test the waters. Ultimately, the right scheduling tool for you depends on your unique needs and the specific demands of your workflow. Happy scheduling!
Disclaimer: All prices and features mentioned are accurate at the time of writing and may change over time. Always check the official product pages for the most up-to-date information.