When it comes to scheduling and booking appointments online, one of the most popular and reliable tools is YouCanBook.me. This web-based service has made it incredibly easy for businesses, organizations, and individuals to manage their bookings in a seamless, efficient manner. In this detailed review, we'll delve into the various aspects of YouCanBook.me, exploring its features, pricing, and how it compares with other online booking tools.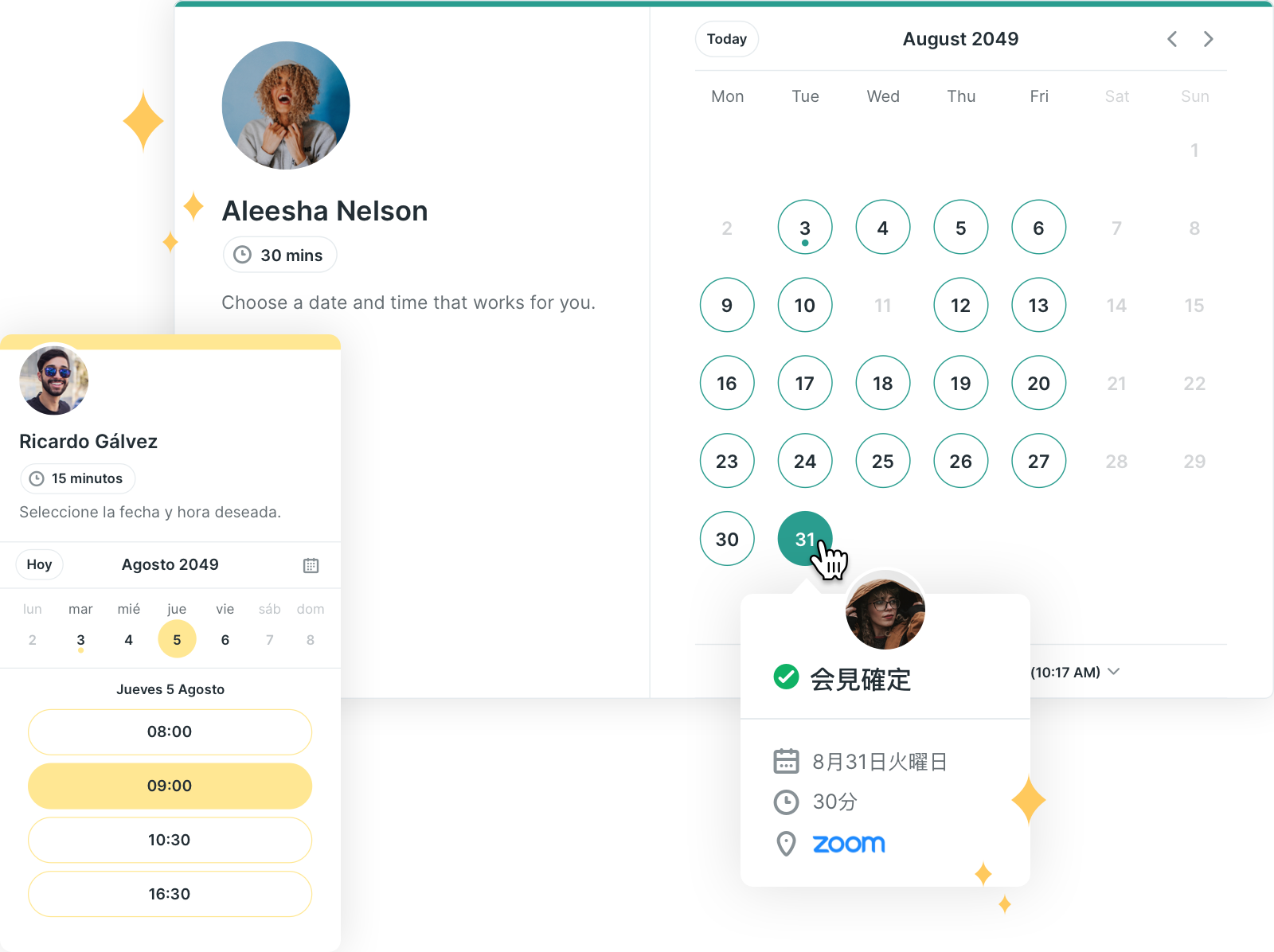 What is YouCanBook.me?
YouCanBook.me is a robust online booking tool that integrates with Google and Microsoft calendars to provide simple yet powerful scheduling solutions. It offers a customizable booking page where users can set their availability and share the link with clients or colleagues to book appointments. The primary aim is to streamline the scheduling process, saving time and improving efficiency.
Key Features of YouCanBook.me
Calendar Integrations: It directly integrates with Google and Microsoft calendars. This allows the software to automatically show your real-time availability based on your existing calendar events.
Customizable Booking Page: The software lets you create a booking page with a personalized URL. You can customize this page to match your branding, including logos, color schemes, and images.
Time Zone Intelligence: This tool automatically detects the time zone of the person booking, reducing the confusion of cross-timezone scheduling.
Flexible Availability: You can set your working hours for each day, decide how much notice you need for bookings, and even create breaks between appointments.
Automated Notifications: Both the booker and the bookie receive automated email or SMS notifications when a booking is made, rescheduled, or canceled.
Team Scheduling: It enables team booking by allowing multiple team members to be booked simultaneously or to distribute bookings evenly across the team.
Customizable Forms: You can collect necessary information from your clients using customizable booking forms.
Online Payments: The service integrates with Stripe, allowing users to collect payments at the time of booking.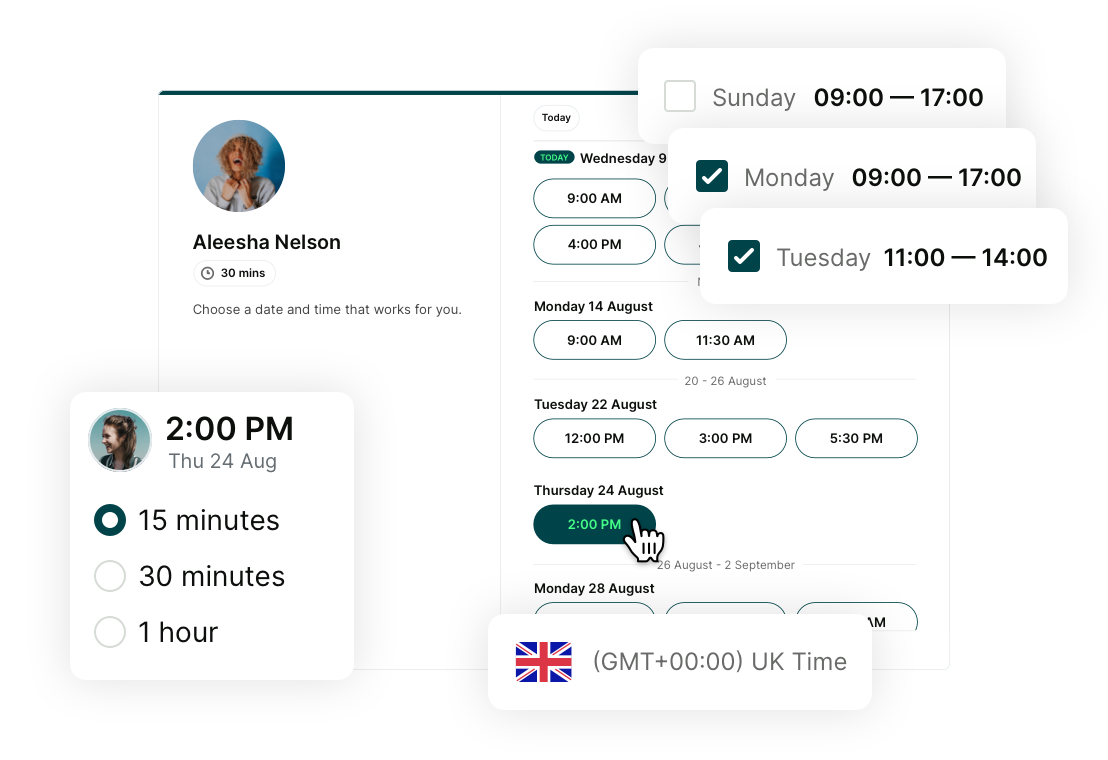 YouCanBook.me has two pricing tiers: a Free plan and a Paid plan.
Free Plan: This plan offers basic scheduling functionality, including calendar integration, a customizable booking page, and automated notifications. It displays the YouCanBook.me branding on the booking page.
Paid Plan: At $10.80 per calendar per month, the paid plan offers additional features such as removing YouCanBook.me branding, offering priority email support, sending SMS notifications, and enabling booking with teams.
What People Generally Search for When Searching for YouCanBook.me
When users are searching for YouCanBook.me, they're generally looking for:
How to use YouCanBook.me: If you're new to the platform, the Knowledge Base is a great place to start. It's full of guides, tutorials, and FAQs to help you get started.
Pricing information: We've provided an overview of the pricing earlier in this post, but you can get more detailed information from the YouCanBook.me Pricing Page.
Alternatives to YouCanBook.me: While this is an excellent tool, it may not fit every business's needs. Users often look for alternatives like Calendly, Acuity Scheduling, or Doodle.
Integrations: Users often search for how to integrate YouCanBook.me with their existing tools. It integrates with Google and Microsoft calendars, as well as tools like Zoom and Stripe for video meetings and payments, respectively.
How to Get Started with YouCanBook.me
Getting started with this scheduling software is straightforward. Follow these steps:
Sign Up: Visit the YouCanBook.me website and click on 'Sign Up' to create an account. You can register using your Google or Microsoft account, as the service will need to access your calendar.
Calendar Integration: After signing up, connect your Google or Microsoft calendar. YouCanBook.me will use this to display your availability and to add new bookings.
Create a Booking Page: Next, create your personalized booking page. You can set up your availability, customize the look of your page, and create a personalized URL.
Share Your Link: Once your booking page is set up, share the link with clients, students, or colleagues. They can use this link to view your availability and book appointments.
Manage Bookings: As bookings are made, they will appear on your calendar, and you'll receive a notification. You can manage these bookings directly from your calendar or from your YouCanBook.me dashboard.
The Benefits of Using YouCanBook.me
Many users have reported a variety of benefits after incorporating YouCanBook.me into their businesses or personal scheduling:
Time-Saving: By automating the scheduling process, YouCanBook.me saves users significant amounts of time. Instead of going back and forth via email or phone to find a suitable time for an appointment, users can share their availability and allow clients to book a suitable slot.
Reduced Missed Appointments: With automated reminders and notifications, both users and their clients have fewer missed appointments due to forgetfulness.
Greater Efficiency: For businesses, it helps to streamline their booking system and makes the process smoother and more professional for clients.
Flexibility: Whether it's one-on-one appointments, team meetings, or group sessions, it offers the flexibility to accommodate various booking scenarios.
Frequently Asked Questions
Can I use YouCanBook.me for Free?
Yes, there is a free version available. The free plan offers basic scheduling functionality, including Google and Microsoft calendar integration, a customizable booking page, and automated notifications. However, the booking page under the free plan includes YouCanBook.me branding.
How Secure is YouCanBook.me?
YouCanBook.me is committed to user security. The platform uses secure OAuth2 and HTTPS connections to access and transfer your data. Also, the platform complies with GDPR and provides data processing addendums for businesses that require it.
Can I collect payments with YouCanBook.me?
Yes, it integrates with Stripe, allowing you to collect payments at the time of booking. This is especially useful for businesses that charge for their services.
Can I cancel my YouCanBook.me subscription at any time?
Yes, you can cancel your YouCanBook.me subscription at any time. If you cancel your subscription, your account will revert to the free version after the current billing period.
Conclusion
YouCanBook.me is a robust and intuitive online scheduling tool designed to streamline the booking process. With a variety of features, it offers a lot of flexibility for businesses and individuals alike. Though the service may not be for everyone, its free version makes it easy to try out and see if it suits your needs. By incorporating this scheduling tool into your booking system, you can potentially save time, reduce missed appointments, and improve overall efficiency.
We are very happy to announce that this scheduling tool has made it to the list of the best Calendly alternative in 2023